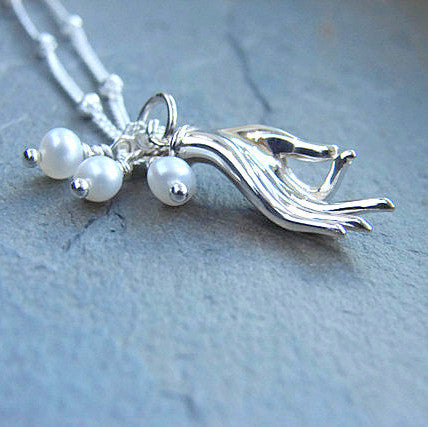 Mudra Pearl Necklace | Purity Tranquility | Buddha's Compassion
---
Mudra necklace is a simple reminder of  kindness and compassion. Mudras in Buddhism are known as the silent language of self-expression. Used in Hindu and Buddhist teachings for healing purposes. This Mudra represents the place we came from; taking us back to our roots and inviting calmness and discovering the peace that resides within all of us.
Pearls in ancient time are believed to be the tears of Gods. The beauty of pearls symbolize innocence; purity and faith.
Mudra Hand with Pearl Gemstone Sterling Silver Necklace.
Personalize your necklace with an initial charm Click Here

- Mudra Size(mm): 24 x 16 x 1.3.
- 18" silver Chain
- Yoga Inspired Designs to Feed the Soul!
---
Share this Product
---
More from this collection