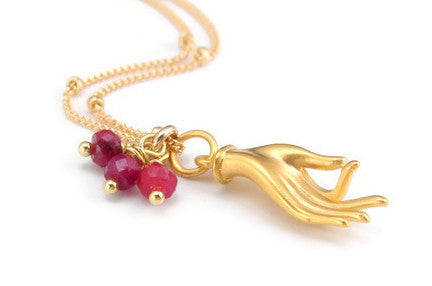 Ruby Mudra Gold Necklace- Prosperity Compassion Grounding
---
Mudra Hand with Ruby Gemstone Neckalce. Mudras in eastern cultures are known as the silent language of self-expression. Used in Hindu and Buddhist teachings for healing purposes. This Mudra represents the place we came from; taking us back to our roots and inviting calmness and discovering the peace that resides within all of us.
In ancient times; the Ruby represented passion; courage; freedom and divine powers. Ancient Hindus considered them as 'Ratnaraj' or king of all precious stones. It was always carried during battles. It was believed that Rubies would make friends of enemies. Rubies are the symbol of wealth and prosperity.


Rubies are also the July Birthstone
Gold Vermeil Mudra Size (mm): 24 x 16 x 1.3. Beautifully hand cast in Thailand. 
18" Gold filled chain
Charm necklace 
Gold Necklace 
Silver Necklace 
Buddhist Inspired Designs to Feed the Soul!
---
Share this Product
---
More from this collection